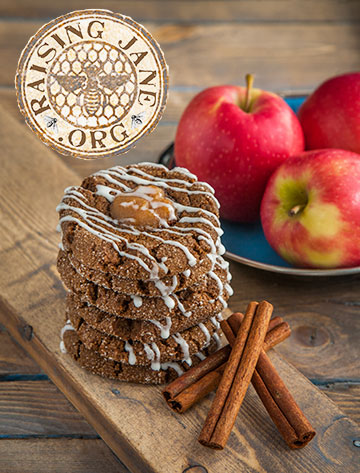 PREP TIME: 30 MINUTES, PLUS 45 MINUTES COOLING AND DRYING TIME
COOK TIME: 14 MINUTES
MAKES: ABOUT 36 COOKIES
1/2 cup butter, softened
3/4 cup sugar, divided
1/2 cup packed brown sugar
1/3 cup molasses
1 egg
2 1/4 cups flour
2 1/2 t ground ginger
1/2 t cinnamon
1 t baking soda
1 t salt
1 cup apple butter
Simple icing (optional):
1 1/4 cup powdered sugar
2 T milk
1. Preheat oven to 350°F. Line two large baking sheets with silicone baking mats or parchment paper.
2. In a large bowl or stand mixer, cream butter, 1/2 cup sugar, and brown sugar until light and fluffy. Add molasses and egg; beat until smooth.
3. In a medium bowl, combine flour, spices, baking soda, and salt. Add flour mixture to butter mixture and stir until soft dough forms.
4. Form dough into 1 T balls, roll in remaining 1/4 cup sugar to coat, and arrange cookies 2" apart on prepared baking sheets.
5. Using the back of a round measuring teaspoon, create a depression for the apple butter (Tip: If you hold the sides of the cookies with gentle pressure as you create the thumbprint, it reduces the size and number of the cracks).
6. Evenly divide apple butter between cookies and bake for 14 minutes, switching baking sheets between racks halfway through. Transfer to a cooling rack and cool completely.
7. Make optional icing: Combine powdered sugar and milk in a small bowl and mix until smooth. Transfer to a squeeze bottle. Drizzle over cookies and let dry completely.